In the North West of England, on the western shore of Morecambe Bay, a quarter of a kilometre off Bardsea Beach, on the muddy sand between high and low tide, there is a lump of conglomerate limestone. It is an ordinary rock about the size of a mini car. An ordinary rock except that on its humped back is a small inland sea crammed with shrimps, crabs and mussels. In each bucket of sand at its base are a thousand minute sea fleas; in each grain of its body are microscopic shells nurtured in tropical seas; and in each bacterium dancing over its head there are worlds untold.

In its heart ancient tides unfold. It has a tale to tell. It knows of fishermen and drownings, of lighting storms and dance bands on collapsing piers. Its sense of deep time and its local and global perspective could shift our everyday perception.

A group of microbiologists, ecologists, computer scientists, artists and poets worked together to create the installation, soundscape and mujsical performance One Rock. Together they awakened one ordinary rock in the sea between tides in Winter.

One Rock was an installation, an education, songs and musicians, a performance, a fable.

One Rock was science and art.

Projections of microscopic images of diatoms gathered from slime and water adjacent to the Rock showed the soup from which we emerged. The spiralling patterns in these minute forms mirror the shapes of distant galaxies.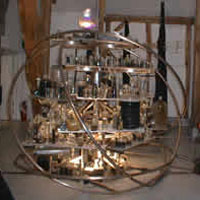 Winogradsky Columns

Bottles of sand, microbes, salt crystals, plants, and other marine life formed "Winogradsky Columns", emanating their sulphurous swampy smells.

Fables and songs called out from under the pier, in a shell grotto guarded by a demonic Mister Punch and sea wolves.

The Rock in the Sea Song Cycle featured Andrew Ridal and the Longline Junior Choir, plus composer Tim Fleming.

Digital artist Pippa Greenwood designed a One Rock website.

One Rock was part of Longline, WSI's three-year project exploring and celebrating the mythology, ecology and life of Morecambe Bay.