2009



Here are shows at the Edinburgh Festival Fringe that connect with the environment, animals or climate change.

Theatre productions include several about Charles Darwin and The Origin of the Species as well as a rap guide to evolution. There are shows about polar bears, trees and allotments.

Plane Food Cafe and Home of the Wriggler make it to the Festival, and Walden returns. The comedian Mark Watson gives his version of Al Gore's An Inconvenient Truth.

For children, there's the return of The Man Who Planted Trees, and shows on pollution, animals and gardens.
---
theatre | comedy | dance and physical theatre | children's shows
---
---
Arthur Fowler's Allotment
Laughing Horse @ The Counting House
A laid back and leafy luncheon of performance outside, with magic, sketches and music. Wet sandwiches and warm wellies.

The Dandelion's Story
Modli Theatre (Korea)
C, Chambers Street
A beautiful flower is born with the help of something dirty, trivial and unexpected. Everything has its purpose in the cycle of life.

Escape
Edinburgh University Theatre Company
Bedlam Theatre
Earth is dying. Mayflower Industries' attempt to find a new home has failed. A lone survivor struggles to reveal the truth, and to cope with choices he has made. A tale of ambition, failure and love in the darkness.


Stan's Cafe: Home of
the Wriggler

Home of the Wriggler
Stan's Cafe
Underbelly
A lo-fi, sci-fi docudrama investigating a post-oil world with lights powered by bikes. The show traces the entwined lives of a community once built on cars.

editor's note: See the Directory here for more on Home of the Wriggler, first produced in 2006.

Oh, My Green Soap Box
Jumbled
Pleasance Courtyard
With some stuff she found in her bedroom and her hired polar bear suit, Lucy Foster will attempt to evoke the beautiful white world melting below our feet. First Prize winner at the 100 Degrees Festival, Berlin.

The Origin of the Species by Means of Natural Selection or the Survival of (R)evolutionary Theories in the Face of Scientific and Ecclesiastical Objections: Being a Musical Comedy about Charles Darwin (1809 - 1882)
Tangram Theatre Company
Pleasance Courtyard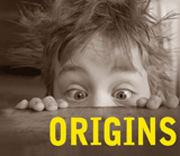 Pentabus: Origins

Origins
Pentabus Theatre
Pleasance Dome
A comedy by Steven Canny and John Nicholson about Darwin's early life. Burning questions concerning bugs, big bangs and body-snatchers.

Plane Food Cafe
Richard DeDomenici/Escalator East to Edinburgh
New Town Theatre, Freemason's Hall
In-flight meals taste different on the ground. Find out how and why, perhaps weaning yourself of flying, at this pop-up art installation / restaurant serving genuine airline cuisine in plastic trays.

Power Plant - A Sound and Light Experience
Mark Anderson, Anne Bean, Jony Easterby, Kirsten Reynolds and others
Assembly @ Royal Botanic Garden
A magical journey through extraordinary installations at the Botanic Garden's glasshouses.

The Rap Guide to Evolution
Baba Brinkman
Gilded Balloon
The Rap Guide explores the history and current understanding of Darwin's theory through the medium of hip-hop storytelling.

The Sociable Plover
Guy Masterson
Assembly @ George Street
Roy Tunt hovers a tick away from twitcher immortality recording every British bird. The elusive plover is his ultimate, but fate cruelly intervenes. Passion, revenge and weatherproofs.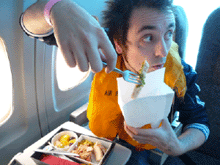 Richard DeDomenici:
Plane Food Cafe

Tree Duet
spell#7 (Singapore)
New Town Theatre, Freemason's Hall
A wry meditation on our continuing entaglement with trees. Interweaving stories from colonial history and the modern Asian city with simple effects and actions, the show is a theatrical ecology of ideas and images: eco-performance minus moralising.

Walden
Magnetic North
Dovecot
Thoreau begins his experiment in simple living in the Massachusetts woods in this adaptation of the classic meditation on self-sufficiency.

The World is Too Much
Traverse Theatre Company
Traverse Theatre
Six specially commissioned plays by playwrights responding to current world events.
The playwrights include David Greig, Chris Hannan, Zinnie Harris, Rona Munro, Simon Stephens and Che Walker.
The new short plays will be presented in 'scratch' performances, unfinished, unpolished, by professional actors, first thing in the morning. Free coffee, tea and breakfast rolls will be provided with your ticket.
---
---
Editors' note: Many shows may have material about climate change. Listed here are shows which advertise a connection in the programme.
Edward Aczel - Explains All the World's Problems...and then Solves Them
Show + Tell
Underbelly
Aczel solves the credit crunch, climate change, and critically, stand-up copmedy.
Helen Keen: The Primitive Methodist Guide to Arctic Survival
Helen Keen
Gilded Balloon Teviot
Keen trivialises true tales of her un-Anglican ancestor's Arctic triumph, with gags, silliness and science.
Marcus Brigstocke: God Collar
Off the Kerb Productions
Assembly @ Assembly Hall
'There's probably no God - but I wish there was. I've got some things I need to ask him.'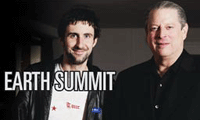 Mark Watson:
Mark Watson's Earth summit

Mark Watson's Earth Summit
Mark Watson
The GRV
In 2007, Mark Watson was one of 100 volunteers chosen to attend Al Gore's climate project training programme. For the first time in Britain, he attempts a semi-comic version of Gore's famous climate change lecture.

Underwater Cathedral
Red Admiral Productions
Laughing Horse @ The Counting House
An elephant and a bird, a porpoise in a cassock, talking trees, rapidly growing kangaroos, animated nonsense in this surreal, comic play.
---
---
Tales of the Apocalypse
Airealism
Gilded Balloon Teviot
An explosive, gravity-defying array of aerial circus acts exploring untold doom and destruction ahead: entropic visions, ghostly entities, imploding stars, radioactive dust.
There are a Thousand Ways to Kneel and Kiss the Ground
Temenos Theatre
Diverse Attractions
'For one moment, quit being sad. Hear blessings dropping their blossoms around you ... beyond the tangled fear-thinking' (Rumi). A performance inspired by mystics and shaman earthkeepers.
---
---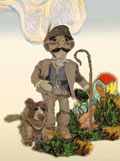 Puppet State Theatre:
The Man Who Planted Trees
Editors' note: Many shows for children represent animals and involve story-telling about animals. We've listed here only those shows with connections to environmental themes as described in the programme.
Garden Detectives
National Museum of Scotland
National Museum of Scotland
What lurks at the bottom of your garden? Delve into hedges, take a peek in our shed and unearth wonders from our flower beds. Inspired by the 200th anniversary of Charles Darwin's birth.
The Man Who Planted Trees
Puppet State Theatre Company
Scottish Storytelling Centre
Puppet State's adaptation of the Jean Giono story won the Eco-Creativity Prize in 2007.
The Nightingale



Incognito Theatre:
The Rubbish Show

Pericles Theatre Company
The Bongo Club
This adaptation of Anderson's tale touches on the triumph of forgiveness, simple truth and beauty over mechanical and political sophistication, hierarchy and consumerism.

The Rubbish Show
Incognito Theatre Company
Zoo Southside
Pollution litters the galaxy. The crew of the Star Ship thingy travel the universe cleaning up the mess left by Morgoon, the evil genius from the planet Morg.

 
---